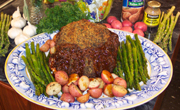 Comment: Easter is the perfect time of year to prepare leg of lamb. Many Cajun families choose to have lamb on their holiday table. Roasted vegetables such as potatoes and asparagus compliment the mild, tender flavor of the lamb and create a beautiful presentation. (Click links above for vegetable recipes.)
Ingredients:
1 (7-8 pound) leg of lamb

8 cloves garlic, minced

¼ cup chopped mint leaves

¼ cup chopped sage leaves

¼ cup chopped rosemary

1 cup Italian-style bread crumbs

salt and cracked black pepper to taste

2 tbsps olive oil
2 tbsps Creole mustard
Method:
Preheat oven to 350°F. Trim excess fat from lamb, leaving only a thin layer to protect meat while cooking. Make small slits all over the surface of lamb with a pairing knife. Use half of garlic to stuff slits. In a small mixing bowl, mix the remaining garlic with mint, sage, rosemary and bread crumbs. Season mixture with salt and pepper. Rub lamb with olive oil and then brush with Creole mustard. Sprinkle bread crumb mixture over lamb and pat down to form a thick even coat. Place lamb on a roasting pan, fat side up. Roast 1½ hours or until meat reaches an internal temperature of 130°F. Remove lamb and allow to rest for 20 minutes before carving.