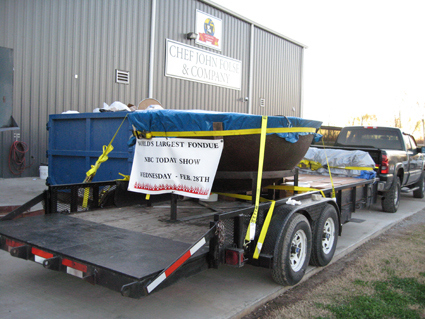 CONTACT: Michaela York FOR IMMEDIATE RELEASE
(225) 644-6000 FEBRUARY 27, 2007
BIG CHEESE IN THE BIG APPLE
Chefs John Folse and Terrance Brennan Create
World's Largest Fondue at NBC Today Show – Feb. 28
Internationally acclaimed chefs John Folse and Terrance Brennan created the World's Largest Fondue at NBC's TODAY show this Wed., Feb. 28 (7:30 a.m. – 9:00 a.m. CST) outdoors at One Rockefeller Plaza, New York City. Folse and Brennan, no relation to Louisiana's Brennan family, created a 2,100-lb. cheese fondue in a 210-year-old, two-ton kettle provided by Chef John Folse & Company.
Brennan, one of Folse's manufacturing clients, contacted Folse late last year to inquire about the feasibility of obtaining a kettle large enough to cook the fondue.
"I told Terrance, 'No problem.' I knew one of our antebellum sugar kettles was the answer," Folse said.
For the last four weeks, Folse's manufacturing team has been formulating the fondue recipe and readying the 1790s kettle including outfitting it with custom-made propane burners. A team of four left the manufacturing facility last Sunday driving the sugar kettle to The Big Apple. Folse along with Brennan and five of Folse's chefs and manufacturing team members fired-up the kettle in Rockefeller Plaza Wednesday morning, breaking the fondue record. A representative from the Guinness Book of World Records was on-site to declare the official record.
The fondue combined the highest quality American cheeses including grated Gruyere and Swiss cheese from Wisconsin's world famous Roth Käse company.
"Of course, no fondue is complete without a little Fleur-de-Lis cheese," Folse said of his international award-winning triple cream cheese produced at Bittersweet Plantation Dairy. Folse added a few wheels of the Fleur-de-Lis cheese to the final product.
Other fondue ingredients include white wine from Rosemount Estate and a signature house-made water and seasoning mix consisting of salt, lemon, pepper and garlic.
"This is really Terrance's show," Folse said. "We just feel fortunate to have been able to provide the kettle, formulate the recipe and truck it all to Rockefeller Plaza."
Following the live show, the 2100 lbs. of cheese fondue was donated to City Harvest, the world's first food rescue organization servicing New York City for 25 years. In celebration of the world record, a portion of proceeds from Brennan's restaurants and online cheese sales from www.artisanalcheese.com will be donated to Share Our Strength, an international leader in the fight against hunger.
Folse is the owner of Bittersweet Plantation Dairy and several other Louisiana-based corporations including Chef John Folse & Company Manufacturing, White Oak Plantation, Chef John Folse & Company Bakery Division and Lafitte's Landing Restaurant at Bittersweet Plantation. Folse is the author of numerous cookbooks, including The Encyclopedia of Cajun & Creole Cuisine. He also hosts a nationally-syndicated television cooking show, "A Taste of Louisiana," a radio cooking talk show, "Stirrin' It Up With Chef John Folse" and appears twice weekly on WAFB-TV's 5 p.m. newscast. Additionally, the Chef John Folse Culinary Institute at Nicholls State University is named in his honor.
Brennan is the award-winning chef/proprietor of Picholine , Artisanal Fromagerie and Bistro. He is the proprietor of The Artisanal Cheese Center, a 10,000-square foot facility dedicated to the selection, maturation and distribution of the world's finest artisanal cheese. The center offers educational classes for consumer and professional audiences year-round. Brennan is also the author of Artisanal Cooking.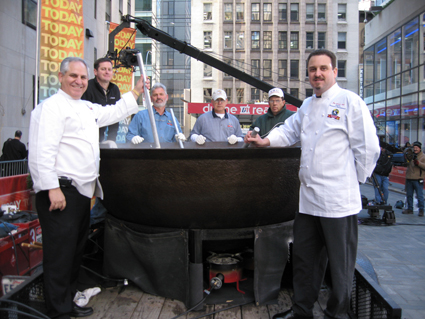 The Team from Chef John Folse & Company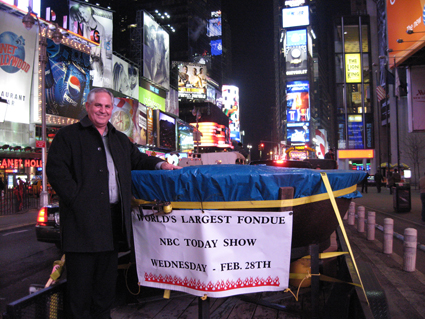 World's Largest Fondue cast iron kettle and John in Time Square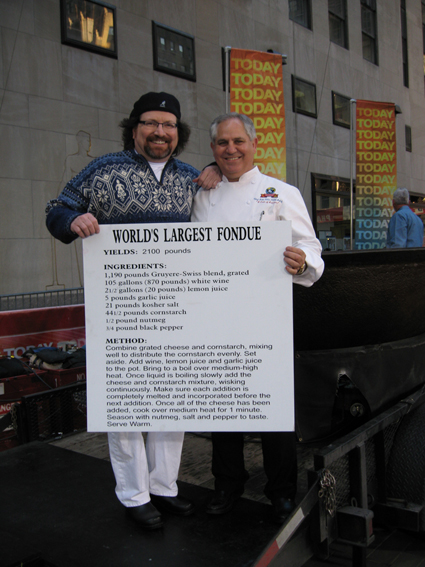 Fondue recipe with John and Terrance Brennan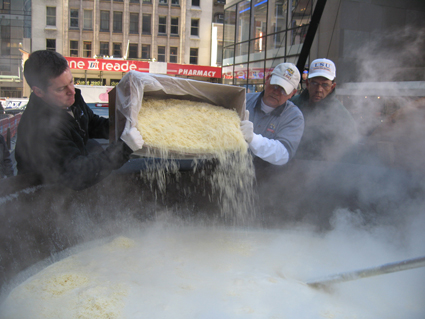 200 pound bag of cheese added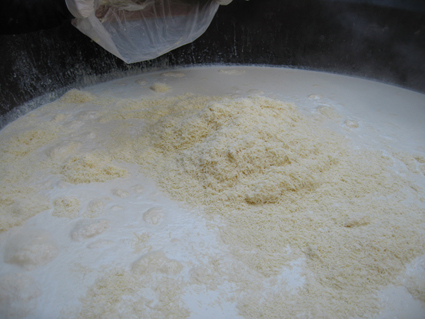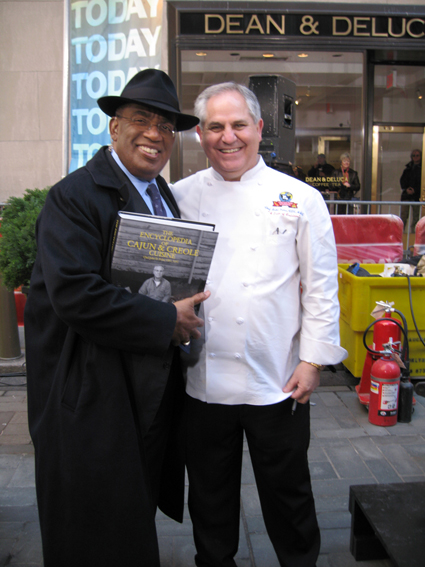 Al Roker gets a copy of John's latest book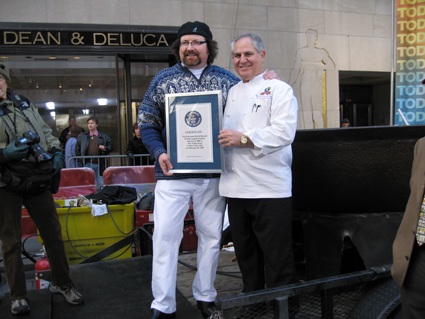 Terrance Brennan and John display their new Guinness World Record