CONTACT: MICHAELA YORK FOR IMMEDIATE RELEASE
(225) 644-6000 July 25, 2006
BITTERSWEET PLANTATION DAIRY "BUTTERS UP" JUDGES AT NATIONAL CHEESE COMPETITION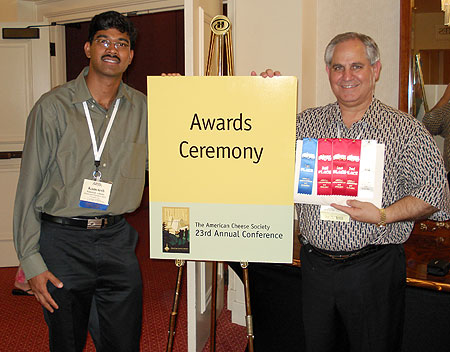 White Chocolate Praline Butter, one of the newest products to come out of Chef John Folse's Bittersweet Plantation Dairy, won first place honors last weekend at the 23rd Annual American Cheese Society (ACS) Conference and Competition in Portland, Ore. Bittersweet Plantation Dairy's Fleur-de-Teche Triple Cream with Vegetable Ash, Bulgarian-Style Plain Drained Yogurt and Bulgarian-Style Yogurt with Raisins and Pecans each won second place honors while Gabriel, a goat's milk triple cream with vegetable ashwon third in its category. A record 941 cheeses from across the United States and Canada competed in 22 categories and 91 subcategories at this year's event.
At last year's awards in Louisville, Ky., Bittersweet Plantation Dairy's Chocolate Pecan Butter and Evangeline (a triple cream goat's milk cheese) each won first place ribbons, Creole Cream Cheese and Bulgarian-Style Black and Blue Yogurt won second place and Fleur-de-Teche won a third place ribbon in its category. In 2004, Folse's Fleur-de-Lis (a triple cream cow's milk cheese) won Gold in the World Cheese Awards during the Specialty & Fine Food Fair in Olympia, London. The World Cheese Awards attracted entries from mainland Europe, Australia, South Africa and the United States. The World Cheese Awards is widely acknowledged as the only awards to have achieved global recognition.
ACS was founded in 1982 and comprises approximately 1,000 members including farmstead, artisanal and specialty cheesemakers; academicians and enthusiasts; marketing and distribution specialists; food writers and cookbook authors; and specialty foods retailers from the United States, Canada and Europe. In addition, members work with the federal government on issues involving accepted standards and practices in the production of cheese and fermented dairy products.
Besides these award-winning dairy products, Folse's Bittersweet Plantation Dairy produces Nevat (a triple cream mixed milk cheese), Vache Santé (a bloomy rind, aged triple cream, cow's milk cheese) a complete line of yogurts, butters and gelatos, as well as Feta and Kashkaval, a Bulgarian-style cheese. These products are distributed nationally through retail stores and wholesale distribution.
Chef John Folse is the owner and executive chef of his Louisiana-based corporation including Chef John Folse & Company Manufacturing, Bittersweet Plantation Dairy, White Oak Plantation, Exceptional Endings and Lafitte's Landing Restaurant at Bittersweet Plantation. He is the author of numerous cookbooks, including The Encyclopedia of Cajun & Creole Cuisine. Folse also hosts a nationally syndicated television cooking show, "A Taste of Louisiana," a radio cooking talk show, "Stirrin' It Up With Chef John Folse" and appears twice weekly on WAFB-TV's 5 p.m. newscast. Additionally, the Chef John Folse Culinary Institute at Nicholls State University in Thibodaux, La., is named in his honor.