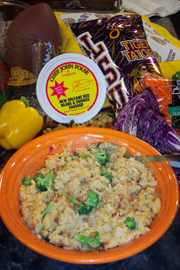 COMMENT:
This quick-to-fix creamy rice recipe is a great side dish for any buffet.
INGREDIENTS:
1 (64-ounce) bag of Chef John Folse's Broccoli, Cheese and Bacon Soup
1½ cups uncooked long grain rice
2 cups water
2 cups frozen broccoli florets (optional)
2 cups diced chicken (optional)
METHOD:
Take one 64-ounce bag of soup and heat according to package directions. In a 5-quart saucepot, combine contents of bag, rice and water. Bring soup to a boil, reduce to low heat, cover and cook for 25-30 minutes or until rice is done and most of the water has cooked out. Uncover and allow steam to escape. NOTE: You can add 2 cups of frozen broccoli florets or 2 cups of chicken to spruce it up even more.