Mashed Potatoes with Leeks
Prep Time: 1 Hour
Yields: 4 Servings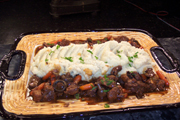 Comment:
Leeks are mild and sweet vegetables that have a more subtle flavor than their other onion relatives. The addition of leeks to the classic mashed potatoes gives the dish a unique taste. Use green onions if leeks are unavailable in your market. The potatoes are pictured at right with beef and pork bourguignon.
Ingredients:
5 medium potatoes, peeled and largely diced
2 medium leeks, thinly sliced (white and pale parts only)
1 tbsp minced garlic
¼ pound butter
½ cup fresh cream
salt and white pepper to taste
Method:
Put potatoes in a large pot, season well with salt and white pepper. Cover potatoes with 1-inch water and boil until tender. While potatoes are boiling, wash leeks in running water then drain in a colander. In a saucepan, melt butter then add leeks and garlic. Cook 3-5 minutes or until wilted. When potatoes are done, drain and place them along with leek mixture in a large bowl. Add cream and mash well. Adjust seasonings if necessary. Serve hot.