Fall Squash Succotash
Prep Time: 1 Hour
Yields: 6–8 Servings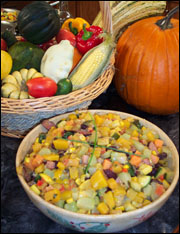 Comment: Traditionally, succotash is a mixture of beans and corn. We have taken various fall and winter squash and combined them to turn this traditional dish upside down. With all of the flavor, color and texture in this dish, it is definitely not a "suffering" succotash.
Ingredients:
1 cup diced pumpkin, peeled and seeded
1 cup diced acorn squash, peeled and seeded
1 cup diced butternut squash, peeled and seeded
1 cup diced mirliton, peeled and pitted
1 cup diced sweet potatoes, peeled
2 quarts chicken stock
¼ cup olive oil
½ cup diced tasso
½ cup sliced andouille sausage
1 cup diced onions
½ cup diced celery
¼ cup diced red bell peppers
¼ cup diced yellow bell peppers
2 tbsps minced shallots
2 tbsps minced garlic
2 cups diced tomatoes, peeled and seeded
1 cup diced yellow squash
1 cup diced zucchini
1 (15-ounce) can whole kernel corn, drained
1 (15-ounce) can red kidney beans with liquid
1 (15-ounce) can white navy beans with liquid
salt, pepper and Creole seasoning to taste
½ cup sliced green onions
Method: In a saucepot, bring chicken stock to a rolling boil. One variety at a time, poach the pumpkin, acorn squash, butternut squash, mirliton and sweet potatoes in the stock until just tender, about 5 minutes each. Remove from poaching liquid and set aside reserving liquid for later use. In a large skillet or saucepot, heat the olive oil over medium-high heat. When the oil is hot, sauté the tasso and andouille for approximately 2 minutes. Add the onions, celery, bell peppers, shallots and garlic and sauté 5 minutes or until wilted. Add tomatoes and sauté for an additional 3–5 minutes. Add the poached squash, yellow squash, zucchini, corn, red beans, white beans, and 1 cup of the reserved poaching liquid and sauté until all vegetables are tender but not falling apart. Season with salt, pepper and Creole seasonings and add sliced green onions. Serve on an oversized platter and garnish with fresh parsley.