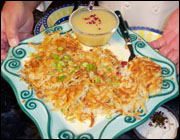 COMMENT:
Latkes are potato pancakes made from grated potato mixed with seasonings and then pan fried. The frying oil reminds us of the oil that burned eight days, giving origin to the Festival of Lights, Hanukkah, and the menorah.
INGREDIENTS:
2 pounds potatoes, peeled and finely shredded

2 large eggs

salt

oil for frying

METHOD:
Place shredded potatoes in a colander and run under cold water. Drain and squeeze them dry by pressing them with your hands. This is to remove the starchy liquid, which could make the latkes soggy. In a small bowl, beat the eggs lightly with salt, add to the potatoes and blend well. Put enough oil in a frying pan to just barely cover the bottom of the pan. Take serving spoonfuls, or as much as ¼ cup, of the mixture, and drop into the hot oil. Flatten a little, and lower the heat so that the cakes cook through evenly. When one side is brown, turn over and brown the other. Lift out and serve immediately.