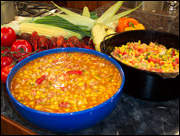 COMMENT: Here we are in the peak of crawfish season, and I have a great recipe to utilize all of our wonderful Louisiana crawfish. You can use this dish as a side or as a main dish over rice. You can also make this dish into a warm and hearty soup by adding stock.

INGREDIENTS:
8 ears fresh corn
1 pound crawfish tails
¼ cup vegetable oil
1 cup chopped onion
1/2 cup chopped celery
1/2 cup chopped green bell pepper
1/2 cup chopped red bell pepper
1/4 cup diced garlic
2 cups coarsely chopped tomatoes
2 tbsps tomato sauce
1 cup sliced green onions
salt and black pepper to taste


METHOD:
Select tender, well-developed ears of corn and remove husks and silk. Using a sharp knife, cut lengthwise through the kernels to remove them from the cob. Scrape each cob using the blade of the knife to remove all milk and additional pulp from the corn. This is important because the richness of the dish will depend on how much milk and pulp can be scraped from the cobs. In a 3-quart cast iron dutch oven, heat vegetable oil over medium-high heat. Sauté corn, onions, celery, bell pepper and garlic approximately 15-20 minutes or until vegetables are wilted and corn begins to tenderize. Add tomatoes, tomato sauce and crawfish. Continue cooking until juice from the tomatoes and crawfish are rendered into the dish, approximately 15-20 minutes. Add green onions and season to taste using salt and pepper. Continue to cook an additional 15 minutes or until full flavor of corn and crawfish is developed into the dish. Serve as a vegetable or add stock to create soup.