COMMENT: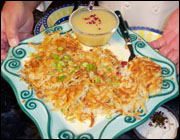 Latkes are potato pancakes made from grated potato mixed with seasonings and then pan fried. The frying oil reminds us of the oil that burned eight days, giving origin to the Festival of Lights, Hanukkah, and the menorah.
INGREDIENTS:
4 cups peeled, grated potatoes
1 large onion, chopped
1½ tsps salt
2 tbsps flour
2 eggs
pepper to taste
¼ cup vegetable oil

METHOD:
Wash, peel, and grate the potatoes. Squeeze out liquid. Combine with onion, salt, flour, and pepper. Lightly beat the egg, and stir into the mixture.
Heat the oil in a skillet, and spoon in tablespoons of the mixture to make medium sized patties. Brown on one side, turn and brown lightly on the other. Repeat with the rest of the mixture.
Serve with applesauce, cottage cheese, yogurt, sour cream, or Bittersweet Plantation Dairy Creole Cream Cheese.