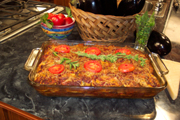 Comment:
Salvatore Mancuso arrived in New Orleans with his young wife in 1870. After working for many years on White Plantation, he saved enough money to buy his own farm and had a family of his own. One of his daughters, Vita, married Antonio Bilello and they started a family eventually consisting of seven sons. Since there were no girls in the family, the second oldest boy, Salvatore, was responsible for helping with the children and cooking while the oldest son worked on the farm. Salvatore soon became an accomplished cook and, when he grew up, opened his own restaurant in Thibodaux. Today, Bilello's Restaurant is a landmark on Bayou Lafourche.
Ingredients:
6 large eggplants, peeled and sliced 1/4-inch thick
1 tbsp peanut oil
1 cup diced onions
1 cup diced celery
1 cup diced bell peppers
¼ cup minced garlic
2 cups water
3 cups tomato sauce
2 tsp chopped oregano
¼ cup chopped basil
salt and black pepper to taste
1½ tsps granulated garlic
1½ cup Parmesan cheese
6 hard boiled eggs, sliced
Method:
Preheat oven to 400ºF. Sprinkle salt over eggplant and place in a large bowl or colander, with a heavy weight on top to help squeeze the water from the vegetable. Set aside for approximately 1 hour. In a 5-quart cast iron Dutch oven, heat oil over medium-high heat. Add onions, celery, bell peppers and garlic. Sauté 3-5 minutes or until vegetables are wilted. Add water, tomato sauce, oregano and basil. Bring to a rolling boil and reduce to simmer. Season to taste using salt and pepper. Cook for approximately 45 minutes, stirring occasionally. Place drained eggplant slices on a pre-greased cookie sheet and bake for 30 minutes. Divide eggplant into 3 equal parts and place a third of the slices in the bottom of a 9" x 13" casserole dish. Sprinkle with a small amount of granulated garlic and cheese. Spoon a third of the gravy on top of eggplant and finish with 8-10 slices of egg. Continue the layering process until all is used up. Pour any excess sauce over the top of the eggplant and sprinkle with remaining Parmesan cheese. Bake, uncovered, for 30 minutes.