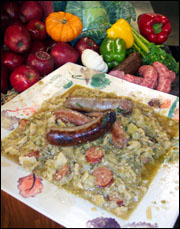 COMMENT:
Bratwurst is a traditional German meat that is synonymous with Oktoberfest. Cabbage is not far behind Brats on German menus. We have added a Cajun twist to this traditional German dish by adding heavily-smoked andouille sausage to lend its smoky flavor to our Cabbage and Brats.
INGREDIENTS:
1 large head of cabbage

6 or 12 links Bratwurst

½ pound sliced andouille sausage

½ cup bacon drippings

1 cup diced onions

1 cup diced celery

½ cup diced bell peppers

¼ cup minced garlic

1 cup sliced green onions

1½ cups chicken stock

salt and cracked black pepper

METHOD:
Cut cabbage in quarters and discard the center heart and all large, exterior leaves. Chop quarters into 2-3 pieces and separate the leaves. In a 4-quart saucepot, melt bacon drippings over medium heat. Add Bratwurst and brown on all sides. Remove from pot and set aside. Add onions, celery, bell peppers, garlic, green onions and andouille to the drippings. Sauté approximately 5 minutes or until vegetables are wilted. Add cabbage and blend well into vegetable mixture. Continue to sauté until cabbage leaves are wilted. Add Bratwurst and chicken stock and reduce heat to simmer. Cover pot and allow to cook, stirring occasionally, for approximately 45 minutes. Season to taste using salt and pepper and continue cooking until cabbage is well smothered. This dish, similar to snap beans, will be overcooked by most standards; however, this is the method preferred by both Cajuns and Creoles.