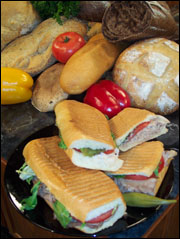 COMMENT:
On July 19, 2003, Petit Marché will open at Baton Rouge's Main Street Market. Chef John Folse will offer ice cream, cheese, soups, salads and sandwiches along with bottled and jarred gift items. Panini, a grilled sandwich, will be offered on three different types of bread with four different fillings including beef brisket, roasted pork, fried turkey and this wonderful grilled, marinated mix of vegetables.
INGREDIENTS FOR SANDWICH:
8 slices of your favorite home-style bread
2 cups red wine vinaigrette (see recipe below)
2 Portobello mushrooms
2 yellow bell peppers
2 red bell peppers
2 yellow squash, sliced lengthwise
2 zucchini, sliced lengthwise
4 slices provolone cheese
spring mix or lettuce
tomato slices
mayonnaise
METHOD FOR SANDWICH:
Heat grill according to manufacturer's directions. Spray or brush grill with vegetable oil. On the hottest spot, grill mushrooms, squash and zucchini for 2–3 minutes on each side or until well-defined grill marks appear. Do not overcook. Over the open flame of a gas stove or in the oven on broil, cook red and yellow bell peppers until the entire skin turns black. Place in a mixing bowl, cover tightly with plastic wrap and allow to cool slightly before removing the charred skin. Once cooled, peel off all of the black skin and run under cold water to remove any remaining bits. Cut pepperS in half and remove the stem and seeds. Slice peppers and mushrooms into thick strips. In a large mixing bowl, toss all of the grilled vegetables with red wine vinaigrette and allow to marinate for at least 30 minutes. NOTE: You may use a bottled red wine vinaigrette, or you can make your own using the recipe below. Dress your sandwich in whichever way you like and divide the vegetables evenly among 4 sandwiches. Grill the prepared sandwich for a few minutes on each side until bread is slightly toasted. A double-sided grill such as a George Foreman grill will be useful in this recipe because it will press the sandwich as it grills.
INGREDIENTS FOR RED WINE VINAIGRETTE:
1 cup red wine vinegar
1 cup vegetable oil
½ tsp minced onion
½ tsp minced garlic
4 tsps sugar
salt and cracked black pepper to taste
METHOD FOR RED WINE VINAIGRETTE:
In a 1-quart mason jar with a tight-fitting lid, combine all ingredients and shake well. Season with salt and pepper to taste.