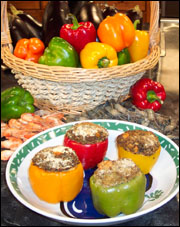 COMMENT:
Long before lake and gulf shrimp were available to Louisianans, river shrimp were in great supply. Almost everyone I know in South Louisiana has a vegetable garden, and by the middle of summer, we all have an abundance of fresh bell peppers, eggplant and tomatoes. Instead of canning or giving away your extras, make dinner! Nothing tastes better than vegetables at their peak of ripeness. This dish is most commonly eaten as an entrée. However, try cutting each pepper in half and serving in place of a vegetable and starch side dish.
INGREDIENTS:
2 whole green bell peppers

2 whole yellow bell peppers

2 whole red bell peppers

2 whole orange bell peppers

4 eggplants, peeled and cubed

4 cups river shrimp tails, cooked

¼ pound butter

1 cup onions, diced

½ cup celery, diced

½ cup red bell pepper, diced

¼ cup garlic, minced

½ cup tomatoes, diced

½ pound ground pork

½ pound ground beef

1 cup rich chicken stock

salt and cracked black pepper to taste

1½ cups seasoned Italian breadcrumbs


¾ cup grated Parmesan cheese



METHOD:
Preheat oven to 350 degrees F. Cut and discard the tops from the bell peppers and clean the pulp from inside. In a large pot, cover bell peppers by 2 inches with lightly salted water. Bring to a low boil and cook 5-8 minutes. Remove peppers from pot and cool under cold tap water. In the same pot, boil diced eggplant until tender, approximately 10-15 minutes. Strain and reserve stock for later use. In a 4-quart saucepan, melt butter over medium-high heat. Sauté onions, celery, bell pepper, garlic and tomatoes approximately 10-15 minutes or until vegetables are wilted. Add ground pork and ground beef and slow cook until golden brown and each grain of meat is well separated. Add small amounts of chicken stock if the meat mixture becomes too dry during cooking. When mixture is browned, add eggplant and cook an additional 30 minutes until vegetables, meat and eggplant are completely tender and well blended. Remove from heat and season to taste using salt and cracked black pepper. Gently fold in river shrimp and sprinkle breadcrumbs into the mixture to absorb most of the liquid. Stuff mixture into bell peppers, sprinkle with Parmesan cheese and a small amount of additional breadcrumbs and place on a large baking sheet. Bake 15-20 minutes or until peppers are heated thoroughly. You may wish to cook the stuffed peppers in a casserole dish topped with your favorite tomato or marinara sauce.