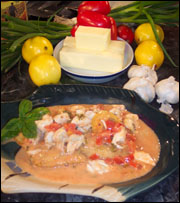 COMMENT:
This sauce is excellent over broiled or sautéed fish or grilled shrimp.
INGREDIENTS:
8 ounces unsalted butter, chipped

½ cup dry white wine

2 tbsps lemon juice

2 thin lemon slices

¼ cup jumbo lump crabmeat

¼ cup diced tomatoes

1 clove garlic, minced

1 tbsp sliced green onions

8–10 whole peppercorns

1 whole bay leaf

3 whole basil leaves

1 tsp tomato sauce

dash of Louisiana hot sauce

salt and cayenne pepper to taste

METHOD:
In a sauté pan, combine wine, lemon juice, lemon slices, crabmeat, tomatoes, garlic, green onions, peppercorns, bay leaf and basil over medium-high heat. Sauté approximately 3 minutes or until juices are rendered into the pan. Add tomato sauce, blend well into mixture and continue to cook until juices have been reduced to approximately 2 tablespoons. Swirling pan constantly, add a few chips of butter at a time until all is incorporated. Do not use a metal spoon or wire whisk as hot spots may develop and butter will separate. Season to taste using hot sauce, salt and pepper. Serve as is, or strain if desired.