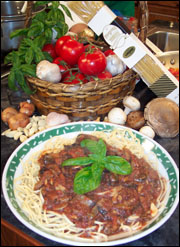 COMMENT: Summer gardens are in bloom, and tomatoes are all around us. I have created this simple and wonderful mushroom sauce to use all of these magnificent tomatoes. Use my recipe for Homemade Tomato Sauce to make this even more special.
INGREDIENTS:
2 cups fresh or rehydrated mixed mushrooms including chanterelles

4 cups Homemade Tomato Sauce*

¼ cup extra virgin olive oil

¼ cup shallots, minced

6 cloves garlic, sliced

1 ounce dry red wine

salt and pepper to taste

METHOD:
Heat oil in a large saucepan over medium-high heat. Sauté shallots and garlic for 5-6 minutes until garlic is brown around the edges. Add mushrooms and sauté for 5-10 minutes reducing any liquid by half. Deglaze the pan with red wine and add Homemade tomato sauce. Bring to a simmer and cook for 15 -20 minutes. Serve over hot pasta.
*If homemade tomato sauce is not available, this recipe can be made with canned tomato sauce. I recommend Cento brand tomato sauce with basil.