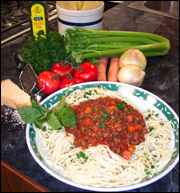 COMMENT: This classic Italian meat sauce from Bologna traditionally uses at least two different kinds of meats. It can be served over your favorite pasta or used in lasagne or other Italian dishes.

INGREDIENTS:
1 pound ground pork
1 pound ground beef
¼ cup olive oil
½ pound finely minced pickled pork
2 cups diced onions
1 cup diced carrots
1 cup diced celery
2 tbsps minced garlic
2 cups beef stock
2 (28-ounce) cans Cento diced plum tomatoes, not drained
6 tbsps Cento tomato paste
2 bay leaves
salt and pepper to taste
sugar as needed
½ cup parsley
METHOD:
In a heavy-bottomed pot, heat oil over medium-high heat. Add pickled pork and sauté 2-3 minutes to render fat. Add ground pork and ground beef and cook until meat is well browned and slightly caramelized on the bottom of the pot. Meat should be separated and crumbly. I prefer to cook the meat in a longer, slower fashion to bring out the best flavor. Add onions, celery, garlic and carrots, blending well into the meat mixture. Sauté 3-5 minutes or until wilted. Add stock, tomatoes and tomato paste, blend well, bring to a boil and reduce to simmer. Add bay leaves, cover and simmer 1 hour, stirring occasionally. Additional stock may be needed to retain sauce consistency; however, the sauce should be of a thick consistency. Sugar may be added to cut the acid if necessary. Season with salt and pepper, then add parsley. Cook 2-3 additional minutes.