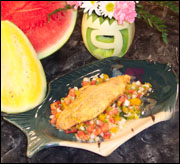 COMMENT:
Although sweet, spicy salsas are commonplace in Caribbean cooking, they have only been seen here on America's tables in the past few years. Salsa combinations are wonderful with grilled fish or chicken and are often used in place of a sauce. Try a tablespoon or two of this version in your next spinach salad.
INGREDIENTS:
2 cups chopped seeded watermelon
1 cup sweet Vidalia onion, chopped
¼ cup orange marmalade
¼ cup fresh cilantro, chopped
¼ cup jalapeno peppers, finely chopped
2 tbsps white vinegar
1 garlic clove, minced
½ teaspoon salt
1 cup chopped orange sections

METHOD:
In large bowl, stir together orange marmalade, cilantro, jalapeno peppers, vinegar, garlic and salt. Add watermelon, sweet Vidalia onion and orange. Gently toss together until coated. Chill at least 30 minutes before serving.