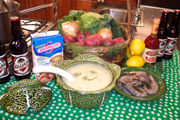 Comment:
Colcannon is a Gaelic dish made of boiled cabbage and potatoes. This holiday dish is so popular in Ireland that poems and songs have been written in its honor. We have changed the traditional colcannon and created a rich soup. The addition of shrimp honors the Irish Bayou fishermen of eastern New Orleans.
Ingredients:
4 medium potatoes, diced
4 cups coarsely chopped cabbage
1 pound shrimp, peeled and deveined
4 cups chicken broth
¼ cup butter
1 medium onion, diced
2 ribs celery, diced
½ tbsp minced garlic
½ tbsp chopped parsley
1 cup heavy whipping cream
¼ tsp chopped dill weed
1 tbsp chopped chives
1 tbsp lemon juice
½ tsp hot sauce
pinch of nutmeg
salt and black pepper to taste
Method:
In a stockpot, simmer chicken broth and potatoes until tender. In a large saucepan, melt butter over medium heat. Stir in cabbage, onions, celery, garlic and parsley. Cook until vegetables are tender then add to stockpot and bring to a simmer. Put half of the soup into a blender. Pulse until smooth then return to pot. Add shrimp and all remaining ingredients. Return to a simmer and hold approximately 10 minutes or until shrimp are cooked. Garnish with additional chopped chives and a dill sprig.