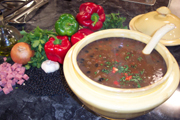 Comment:
Beans are a naturally low-fat food and they contain many essential nutrients, such as fiber and iron. In this recipe, we have combined beans with great tasting herbs and vegetables, creating a wonderful soup that has less than 3 grams of fat per serving.
Ingredients:
3 (15-ounce) cans black beans, undrained
1 pound lean or low-fat cubed ham
1 tbsp olive oil
1 cup diced onions
¾ cup diced red bell peppers
2 tbsps minced garlic
½ tsp ground cumin
3 tbsps chopped fresh cilantro
¼ tsp dried thyme
1 (10-ounce) can Rotel tomatoes
1 (6-ounce) can tomato paste
2 quarts fat-free chicken stock
salt and black pepper to taste
low-fat or fat-free sour cream
cilantro for garnish
Method:
In a 5-quart stockpot, heat oil over medium-high heat. Add onions, red bell peppers and garlic. Sauté vegetables for 3-5 minutes or until softened. Stir in ham and cook 2-3 minutes or until slightly brown around the edges. Season with cumin, cilantro and thyme. Sauté for 1 minute to allow spices to toast. Blend in Rotel and tomato paste. Add chicken stock and black beans. Bring to a rolling boil, reduce to simmer and cook for 30-45 minutes. Season to taste with salt and pepper. If a thicker, smoother soup is desired, purée half of the soup in a blender or with a hand mixer. Serve hot with a dollop of low-fat or fat-free sour cream and a sprig of cilantro.