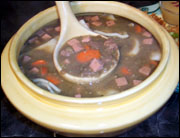 COMMENT:
This recipe came directly from Mike's wife, Gloria Graham. This is Mike's favorite soup, so I thought I should go directly to the source for this recipe.
INGREDIENTS:
1-pound lentils

1 pound chuck or shoulder roast, 1 inch diced
salt, pepper and granulated garlic to taste
2 tbsps vegetable oil

2 cups onions

1 cup celery

2 tbsps garlic, minced

3 quarts chicken stock

1 cup carrots, sliced on bias

½ pound garlic bologna, ½ inch diced

pirogues

¼ cup parsley, chopped

METHOD:
Soak lentils in water overnight or for at least 2 hours. Season beef with salt, pepper and granulated garlic. In a 1 gallon stockpot heat oil over medium high heat. Sauté onion, celery and garlic until onions are translucent, about 3-5 minutes. Add beef, reduce heat to low, cover and cook for 20 minutes, stirring occasionally. Add chicken stock and bring to a rolling boil. Drain lentils completely and add soaked lentils to the boiling stock. Cook for approximately 1 hour or until lentils are tender. Add carrots, garlic bologna and pirogues and cook for 25 additional minutes. Best if served the next day to allow flavors to develop.