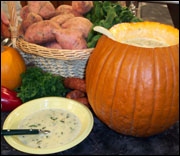 COMMENT:
While visiting Japan, I worked with a Japanese chef who taught me a simple truth about cooking. If food looks good, it will certainly taste good. This recipe incorporates that very basic principle. The vivid green spinach and the bright orange sweet potato give the soup visual appeal, and the flavor is out of this world.
INGREDIENTS:
4 cups spinach leaves
2 cups sweet potatoes, diced ¼-inch
1 cup julienned smoked sausage
½ cup margarine
1 cup chopped onions
½ cup chopped celery
¼ cup chopped red bell pepper
¼ cup diced garlic
1 cup flour
3 quarts defatted chicken stock
1 quart heavy whipping cream
½ cup sliced chives
½ cup chopped parsley
salt and cracked black pepper to taste
dash of hot sauce
METHOD:
Wash spinach leaves to remove any sand or grit and finely chop into ¼-inch squares. In a heavy-bottomed Dutch oven, melt margarine over medium-high heat. Add smoked sausage, onions, celery, bell peppers and garlic. Sauté 3 to 5 minutes, stirring constantly. Sprinkle in flour and, using a wire whisk, stir vegetable mixture to form a blonde roux. Add chicken stock, one ladle at a time, whisking constantly until soup consistency is achieved. Add sweet potatoes. Bring to a rolling boil, reduce to simmer and cook approximately 20 minutes. Add spinach and cook approximately 10 additional minutes. Additional stock may be added to retain proper consistency. Add heavy whipping cream, chives and parsley. Season to taste using salt, pepper and hot sauce. Once potatoes are tender, serve in individual soup bowls and garnish with finely chopped spinach.