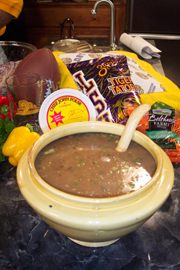 COMMENT:
In South Louisiana, we normally think of red beans as a "Monday" dish and always serve them over rice with a link of smoked sausage. This gumbo variation started out as a perfect solution to making use of leftover red beans and rice. Today, its a fall delicacy.
INGREDIENTS:
1 (16-ounce can) Blue Runner New Orleans Red Beans
1 (10-12-ounce) can red kidney
beans in water
1 cup cooked long grain rice
1/4 cup vegetable oil
1/4 cup bacon fat
1/2 cup flour
1 cup onions, diced
1 cup celery, diced
1/2 cup bell peppers, diced
1/4 cup garlic, minced
1 quart chicken stock or water
1 pound sugar cured ham, diced
1/2 pound smoked sausage, sliced
1/2 cup green onions, sliced
1/2 cup parsley, chopped
salt and pepper to taste
METHOD:
In a 7-quart cast iron pot, heat oil and bacon fat over medium-high heat. Add flour and, using a wire whisk, stir constantly until dark brown roux is achieved. Add onions, celery and bell peppers and saute 3-5 minutes or until vegetables are wilted. Add garlic and saute, stirring occasionally, for an additional 3 minutes. Add chicken stock, blending well into the roux mixture. Add ham and smoked sausage and cook 3-5 minutes. Add Blue Runner beans, blending well into the stock. Bring to a rolling boil, reduce to simmer and cook 45 minutes. Add additional stock or water as necessary to maintain soup-like consistency. Add cooked kidney beans, rice , green onions and parsley. Season to taste using salt and pepper. Return to a low boil and serve immediately.