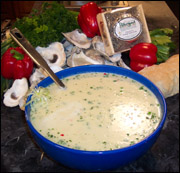 COMMENT:
Other than New Orleans Oyster Soup, the famous Oyster and Brie Cheese Soup stands out as one of the most sought after bisque recipes. Here in south Louisiana, we have taken the liberty to incorporate the Fleur-de-Lis triple cream cheese of Bittersweet Plantation Dairy to create a soup that is sure to rival either recipe.
INGREDIENTS:
1 quart P&J oysters w/liquid
¼ pound butter
1 cup minced onions
1 cup minced celery
¼ cup minced green bell pepper
1 tbsp minced garlic
¾ cup flour
1 quart chicken stock
1 quart heavy cream
2 (8-ounce) rounds Bittersweet Plantation Dairy Fleur-de-Lis fromage triple cream
¼ cup minced red bell pepper
salt and pepper to taste
¼ cup chopped parsley
¼ cup sliced green onions


METHOD:
Drain oysters and reserve oyster liquid. In heavy sauce pan, melt butter over medium-high heat. Sauté onions, celery, green bell pepper and garlic until vegetables are tender, approximately 3-5 minutes. Add flour and blend well into the vegetable mixture. Add chicken stock and oyster liquid, whisking well into the roux. Slowly add heavy whipping cream until all is well blended. Bring to a rolling boil, reduce to simmer, and cook approximately 10 minutes, stirring occasionally. Cut wheels of Fleur-de-Lis into 8 pieces. Add cheese including rind into the soup, stirring constantly until cheese has melted. Cook 5 additional minutes. Strain the soup through a china cap or strainer to remove seasonings and any unmelted rind. Add oysters and red bell pepper. Season to taste using salt and pepper. Garnish with parsley and green onions. Once oysters are curled and puffy but not overcooked, the soup is ready to serve.