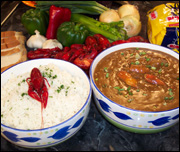 COMMENT:
Crawfish bisque is a tradition in Louisiana. This dish is normally made in May or June, toward the end of crawfish season. Usually, an entire family gets together to make enough bisque at one time for everyone's freezer.
INGREDIENTS:
2 pounds cleaned crawfish tails
60 cleaned crawfish heads
1½ cups minced onions
1 cup minced celery
½ cup minced bell pepper
2 tbsps minced garlic
½ cup chopped parsley
3 eggs, beaten
2 cups seasoned Italian bread crumbs
salt and pepper to taste
METHOD:
Ask your seafood supplier to clean 60 crawfish heads for this dish. The heads may be frozen for an extended period of time. Prior to using, you may wish to soak the heads overnight in cold soda water. Preheat oven to 350 degrees F. Grind crawfish tails, onions, celery, bell pepper, garlic and parsley in a home-style meat grinder or food processor. Once ground, add eggs and enough bread crumbs to hold the mixture together but not so that the stuffing becomes too bready. Begin with 1 cup. Season to taste using salt and pepper. Stuff equal amounts into the 60 crawfish heads. Bake for 20 minutes or until lightly browned to fully cook the seasonings in the crawfish heads. Remove and set aside.
INGREDIENTS FOR SAUCE:
1 pound cleaned crawfish tails
1½ cups vegetable oil
1½ cups flour
1½ cups diced onion
1 cup diced celery
½ cup diced bell pepper
2 tbsps minced garlic
¼ cup tomato sauce
3 quarts crawfish stock
1 cup chopped green onions
½ cup chopped parsley
salt and black pepper to taste
METHOD:
In a heavy-bottomed dutch oven, heat oil over medium-high heat. Add flour and, using a wire whisk, stir constantly until dark brown roux is achieved. Add onions, celery, bell pepper and garlic and sauté until vegetables are wilted, approximately 3 to 5 minutes. Add crawfish tails and tomato sauce, blending well into vegetable mixture. Slowly add crawfish stock a little at a time until sauce-like consistency is achieved. Additional stock may be needed during the cooking process. Bring to a rolling boil, reduce to simmer and add stuffed crawfish heads. Stir well into the mixture and simmer 45 minutes, stirring occasionally. It is important to stir the dish since the crawfish will settle to the bottom of the pot and may tend to scorch. Add green onions and parsley and season to taste using salt and pepper. Serve in a 10-ounce soup bowl over white rice.