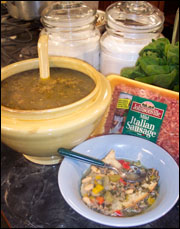 COMMENT: Americans eat more Italian food than any other regional cuisine. This soup combines cannellini beans, which are often used in Italian cooking, with spinach, sweet peppers and sausage to create a wonderful Italian dish.

INGREDIENTS:
1 pound bulk Italian sausage

2 cans Bush's cannellini beans

2 cups diced onions

1 cup diced celery

½ cup diced red bell peppers

½ cup diced yellow bell peppers

2 tbsps minced garlic

1 quart vegetable broth

1 quart chicken broth

3 cups chopped fresh spinach

1¼ tsps Italian seasoning

salt and black pepper to taste

METHOD:
In a 3-quart stockpot, brown sausage over medium-high heat. Drain excess grease. Add all ingredients except for the beans and bring to a rolling boil. Reduce heat and simmer for 30-45 minutes. Add beans and cook 10 additional minutes. Season to taste with salt and pepper. Serve in warm soup bowls over a piece of crusty Italian bread. Garnish with a sprig of fresh basil.