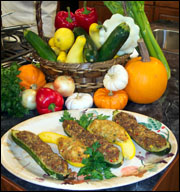 COMMENT:
The name summer squash is a little deceiving because these vegetables are plentiful even in the cool fall months. This recipe uses shrimp and seasonings to make a delicious stuffed squash. Any other type of squash can be substituted. You may even want to try suffing zucchini using 1 pound of cooked and drained ground beef in place of shrimp.
INGREDIENTS:
1 pound small shrimp (70-90 count)
3 medium yellow summer squash
¼ pound butter
1 cup minced zucchini
¼ cup minced onions
¼ cup minced celery
1 tbsp minced garlic
¼ cup minced red bell pepper
1 tsp lemon juice
salt and cayenne pepper to taste
1 cup seasoned Italian bread crumbs
METHOD:
Preheat oven to 375°F. Slice yellow squash lengthwise into two equal halves. Remove neck from squash and finely dice for recipe. Place squash halves in pot of boiling water and cook for 8–10 minutes or until skin is tender. Remove from water and allow to cool. In a heavy-bottomed sauté pan, melt butter over medium-high heat. Add zucchini, yellow squash, onions, celery, garlic and bell peppers. Sauté approximately 3–5 minutes or until vegetables are wilted. Add lump crabmeat and shrimp and fold gently into mixture. Add lemon juice and cook 1 additional minute. Remove from heat and season to taste using salt and cayenne pepper. Add bread crumbs a little at a time until squash mixture is held together but not too dry. Using a metal spoon, scoop seed section from center of yellow squash and discard seeds. Divide stuffing equally between six halves, stuff and place on baking pan. Sprinkle with additional bread crumbs and bake 10–15 minutes until squash is golden brown.