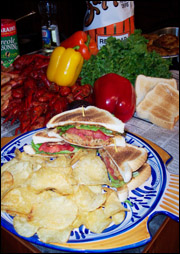 COMMENT:
In this great Lenten recipe, we have changed great crab cakes into something better- shrimp and crawfish cakes. We garnish this sandwich with sliced avocado and remoulade sauce to make a great Friday lunch or dinner. Add bacon to make a tasty club sandwich for lunch any other day of the week.
INGREDIENTS:
½ pound small shrimp, peeled and deveined (70-90 count)
1 pound crawfish tails, drained
2 tbsps green onions, minced
2 tbsps red bell pepper, minced
2 tbsps onions, minced
3 eggs
4 tsp lemon juice
2 tsp dry mustard
2 tsp Worcestershire sauce
1 tsp kosher salt
1 tsp cayenne
4 tsp Zatarain's Creole Seasoning
Louisiana Gold Pepper Sauce to taste
2 cups panko (Japanese) bread crumbs
toasted slices of Texas toast
lettuce
sliced avocado
remoulade sauce

METHOD:
In the bowl of a food processor, combine, shrimp, crawfish, green onions, red bell pepper and onions. Pulse 2-3 times or until seafood is coarsely chopped. In a large mixing bowl, whisk together eggs, lemon juice, mustard, Worcestershire sauce, salt, cayenne and Creole seasoning. Add seafood mixture and breadcrumbs. Form into 12 equal balls and flatten into cakes. In a medium skillet, heat vegetable oil over medium high heat. Sauté cakes until golden brown, about 3-5 minutes on each side. Serve on Texas toast with lettuce, bacon, avocado and remoulade sauce. Cut each sandwich into four triangles and pierce with frilled toothpicks to keep each section together.