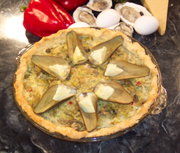 Comment:
The marriage of oysters and artichokes is common in Louisiana cuisine, but seldom is this combination used in a pie. This unique pie makes an excellent brunch item.
Ingredients:
1 pint oysters, drained

1 (13.75-ounce) can quartered artichoke hearts, drained and roughly chopped

1 (9-inch) deep-dish piecrust

2 tbsps butter

½ cup diced onions

¼ cup diced celery

2 tbsps diced red bell peppers

2 tsps minced garlic

½ cup Italian bread crumbs

3 eggs

½ cup heavy whipping cream

½ cup grated Parmesan cheese

1 tsp chopped parsley

pinch nutmeg

½ tsp salt

½ tsp black pepper
Method:
Preheat oven to 350°F. In a sauté pan, melt butter over medium-high heat. Add onions, celery, bell peppers and garlic. Sauté 3-5 minutes or until vegetables are wilted. Stir in artichokes and sauté 5 minutes. Add oysters and sauté until edges start to curl. Blend in bread crumbs then cool mixture slightly. Place the cooled mixture into piecrust. In a mixing bowl, whisk eggs, whipping cream, Parmesan cheese, parsley, nutmeg, salt and pepper. Pour the mixture on top of the pie filling. Bake for 30 minutes.