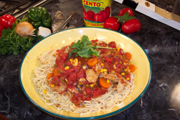 Comment: Louisianans are famous for blending their local styles and flavors with traditional cuisine. Here we see a traditional Italian dish married with fresh oysters for a uniquely Louisiana flavor.
Ingredients:
1 pint raw oysters
1 (12-ounce) package linguine
¼ cup olive oil
½ cup thinly sliced garlic
½ cup diced onions
½ cup diced celery
¼ cup diced bell peppers
1 (28-ounce) can diced tomatoes, drained
¼ cup tomato paste
red pepper flakes to taste
½ cup frozen whole kernel corn
½ cup sliced carrots
1 cup clam juice
½ cup chopped basil
salt and black pepper to taste
Sriracha chili sauce to taste
1 tbsp chopped parsley
Method:
In a large saucepan, heat olive oil over medium-high heat. Add garlic, onions, celery and bell peppers and sauté 3-5 minutes or until vegetables are wilted. Blend in tomatoes, tomato paste, red pepper flakes, corn and carrots and simmer 3 minutes. Add clam juice, basil and oysters. Simmer for 2 minutes or until oysters start to curl. Season to taste with salt, pepper and chili sauce. Boil linguini according to package directions. Drain and place in serving bowl. Toss pasta with a portion of the sauce to lightly coat. Top linguine with the remaining sauce and garnish with parsley and Parmesan cheese if desired.