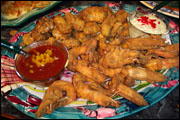 COMMENT:
Deep frying is still quite common in the South. With the introduction of "lite" oils, the technique seems to live on forever. I feel it is necessary to include my own frying technique since so many customers request it time and time again.
INGREDIENTS FOR BATTER:
1 egg
1 cup milk
1 cup water
4 tbsps yellow mustard
salt and cracked black pepper to taste
METHOD:
In a 1-quart mixing bowl blend all ingredients well. Set aside.
INGREDIENTS FOR FRYING:
2 dozen freshly shucked oysters
21-25 count shrimp, peeled, tail on and deveined
oil for deep frying
4 cups yellow corn flour
2 tbsps granulated garlic
2 tbsps salt
2 tbsps cracked black pepper
1 tsp cayenne pepper
METHOD:
Using a home-style deep frying unit, such as a Fry Daddy, heat oil according to manufacturer's directions. A high quality vegetable oil or peanut oil should be considered. Corn flour, a double-ground, yellow cornmeal, may be found in the gourmet section of most food stores or as a pre-packaged fish fry such as Zatarain's. Combine corn flour, garlic, salt and peppers, blending well to ensure seasonings are evenly distributed. Dip oysters and shrimp in egg batter and then into seasoned corn flour. Deep fry, a few at a time, until they float to the top of the oil and are golden brown. Continue the process until all oysters and shrimp are done.