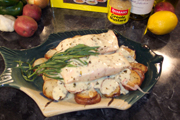 Ingredients:
4 (4-ounce) salmon fillets, skinned
1 tbsp Creole mustard
1½ cups dry white wine
¼ cup bottled clam juice
½ cup thinly sliced shallots
2 sprigs fresh tarragon
1 clove garlic, smashed
1 bay leaf
½ tsp black peppercorns
¼ tsp kosher salt
½ cup heavy cream
4 tbsps cold butter, thinly sliced
1 tbsp chopped tarragon
Method:
In a large saucepan, combine white wine, clam juice, shallots, tarragon sprigs, garlic, bay leaf, black peppercorns and salt. Bring to a boil, reduce to simmer and cook 5 minutes. Add salmon and poach for 5 minutes or until done. Remove the salmon from the pan and keep warm. Boil poaching liquid for 5 minutes, or until reduced by half. Add cream and boil 3 additional minutes or until thick bubbles appear. Reduce heat to low. Whisk in butter, one piece at a time, stirring constantly, until all has been added. Strain the sauce into a medium-mixing bowl discard vegetables. Stir in chopped tarragon and Creole mustard. Place salmon over Golden Home Fries and top with sauce.
NOTE: Other fish, such as catfish can be used in place of salmon if desired.