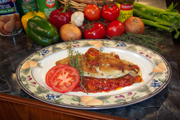 Comment:
There is considerable evidence that fish and fish oils are beneficial to heart and mental health and reduce the risk of cancer. Tomatoes contain Lycopene, which have been found to reduce the risk of and help prevent certain types of cancer. This dish is not only lower in fat (21g per serving) then its red meat counterpart (45g per serving), but it is also extremely healthy for you.
Ingredients:
1½ pounds catfish fillets
¼ cup grated Parmesan cheese
½ cup seasoned breadcrumbs
½ cup flour
salt and pepper to taste
½ cup low-fat buttermilk
¼ cup extra virgin olive oil
¼ cup diced onions
2 tbsps diced celery
2 tbsps diced bell peppers
1 tbsp minced garlic
1½ cups crushed tomatoes
1 tsp chopped thyme
8 stuffed jumbo olives, sliced
Method:
In a small mixing bowl, combine Parmesan, breadcrumbs and flour. Season mixture with salt and pepper. Season fish fillets with salt and pepper then dredge in buttermilk, allowing excess to run-off. Dredge coated fillets in breadcrumb mixture. In a large skillet, heat olive oil over medium-high heat and sauté fish about 4 minutes on each side until golden brown and cooked through. In a separate skillet, heat 1 tablespoon of oil used to sauté the fish over medium-high heat. Sauté onions, celery, bell peppers and garlic 3-5 minutes or until softened. Add tomatoes, thyme and olives and simmer for 5-7 minutes or until slightly thickened. Season sauce with salt and pepper and serve over fish. Garnish dish with a sprig of thyme and a couple of slices of fresh tomato if desired.