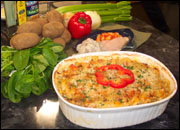 COMMENT:
Casseroles were made famous in the 1950s when women started entering the workforce. They combined leftover meats and vegetables to make a quick, one-dish meal that could feed a large family. We have combined seafood, potatoes and spinach with a rich cream sauce to make the perfect Lenten dinner.
INGREDIENTS:
1 pound catfish, cut into bite-sized pieces
½ pound small shrimp (70-90 count), peeled and deveined
1 pound crawfish tails, drained
3 medium potatoes, peeled and boiled just until fork tender
1 bag baby spinach leaves, rinsed and stems removed
¼ cup olive oil
¾ cup diced onions
½ cup diced celery
¼ cup diced red bell pepper
1 tbsp minced garlic
1 cup heavy cream
1 cup fresh grated Parmesan cheese
1 cup seasoned Italian breadcrumbs
salt and pepper to taste
Zatarain's Creole seasoning
Louisiana Gold Pepper Sauce

METHOD:
Preheat oven to 350 degrees F. In a mixing bowl, combine fish, shrimp and crawfish, season lightly with Zatarain's Creole seasoning and Louisiana Gold Pepper Sauce and mix well. Spray a 2½-quart casserole dish with vegetable spray. Sliced the cooked potatoes very thinly. Layer sliced potatoes in the bottom of the baking dish. Season with salt and pepper. In a medium skillet, heat olive oil over medium heat. Sauté onion, celery, bell pepper and garlic and cook until tender, about 2-3 minutes. Add spinach and toss until wilted, about 1-2 minutes. Season to taste with salt and pepper. Cover the potatoes with the spinach mixture. Gently pour cream over the potatoes and spinach mixture. Sprinkle with half of the Parmesan cheese and half of the breadcrumbs. Spread the seafood mixture evenly over the cheese and breadcrumbs. In a small bowl, combine remaining cheese and breadcrumbs and sprinkle evenly over the seafood. Bake for 50-60 minutes or until golden brown and the center of the dish reaches 160 degrees. You MUST allow the casserole to sit for 15 minutes so that the sauce is absorbed completely.