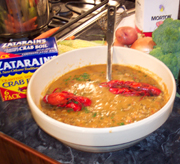 Comment:
This great recipe comes from my dad, the late Antoine "Royley" Folse Sr. Daddy passed away Saturday, February 26, 2005, at the age of 90. I don't think anybody ever made a better crawfish stew. When we were kids, we would often spend Sundays at the old Zeringue camp in St. James, La., where he would cook this fabulous dish. I am so thankful for those moments Daddy and I shared, and it is my duty to share with you one his best recipes.

Ingredients:
5 pounds crawfish tails
1 cup crawfish fat (optional)
2 cups crawfish claws (optional)
¼ cup vegetable oil
salt and black pepper to taste
1½ cups vegetable oil
1½ cups flour
2 cups diced onions
1 cup diced celery
1 cup diced bell peppers
¼ cup minced garlic
1 cup tomato sauce
3 quarts water
2 bay leaves
Louisiana hot sauce to taste
1 cup sliced green onions
1 cup chopped parsley
Method:
In a 12-inch cast iron skillet, heat ¼ cup vegetable oil over medium-high heat. Drain crawfish tails in a colander, reserving fat and natural juices. Sauté tails 5–10 minutes or until curled and heated thoroughly but not overcooked. Season with salt and pepper then set aside. In a heavy-bottomed Dutch oven, heat remaining oil over medium-high heat. Whisk in flour, stirring constantly until dark brown roux is achieved. Add onions, celery, bell peppers and garlic. Sauté 3–5 minutes or until vegetables are well caramelized. Stir occasionally to prevent vegetables from scorching. Pour in tomato sauce and cook 3 minutes. NOTE: Daddy always reminded me that this is no spaghetti sauce. The tomato sauce is used to turn the sauce a nice, rusty color. Slowly add water, 1 quart at a time, until thick stew consistency is achieved. You may not need to add all of water at once. Add crawfish fat, reserved drippings and bay leaves. Season liquid lightly with salt and pepper. Bring stock to a rolling boil then reduce to simmer and add sautéed crawfish, including pan drippings. Simmer stew approximately 45 minutes, stirring occasionally. Do not boil. Additional water may be needed during cooking process to retain volume and consistency. Once stew is full-flavored, adjust seasonings with salt, pepper and hot sauce. Add green onions, parsley and optional crawfish claws. Cook 15–20 minutes or until desired richness is achieved. Adjust seasonings if necessary. Serve over steamed white rice.