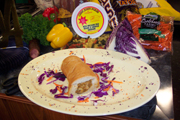 COMMENT:
What better way to eat crawfish étouffée than nestled in a loaf of French bread!
INGREDIENTS:
1 (28-ounce) bag of Chef John Folse's Louisiana Style Crawfish
Étouffée
5 tbsps cornstarch
1/3 cup water
1 loaf French bread
3 tbsps butter, softened
Crawfish Bread
Preheat oven to 350°F. Take Crawfish Étouffée and heat according to package directions. In a medium saucepan, pour contents of bag and bring to a simmer. In a small bowl add 5 tablespoons cornstarch and 1/3 cup water and mix until cornstarch is dissolved. Add cornstarch to simmering étouffée and stir until thickened. The mixture will be slightly thicker than pie filling. Set aside to cool. Cut top off of a loaf of French bread. Scoop inside out of loaf and set aside. Put crawfish mixture into bread. Butter top, place on top of filling and wrap loaf in foil. Bake for 20-30 minutes. Cut into slices and serve.