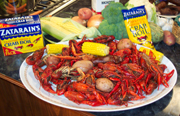 COMMENT:
The crawfish boil is the premier social event in the spring time here in Louisiana. Friends and family gather for an afternoon under the shade of an oak tree to enjoy a delicacy unequaled in the Southland.
INGREDIENTS:
30 quarts cold water
12 medium onions, quartered
6 heads of garlic, split in half exposing pods
6 lemons, quartered
1 cup cooking oil
4 pounds salt
1/2 pounds cayenne pepper
4 (3-ounce) bags Zatarain's crab boil
6 tbls celery salt
24 medium red potatoes
12 ears of corn
50 pounds cleaned crawfish
METHOD:
Live crawfish may be purchased already washed from your seafood supplier. However, a second rinsing in cold water would not hurt. The purging of crawfish, or washing the crawfish in cold salted water, has been found to be useless other than to place the crustacean under unnecessary stress. So forget the purging - rinsing in cold water will suffice. In a 60-quart stock pot, bring water to a rolling boil. Add onions, garlic, lemons, cooking oil, salt, pepper, Zatarain's crab boil and continue to boil for 30 minutes. This boiling of the vegetables will ensure a good flavor in the boiling liquid. Add red potatoes and cook approximately 10-12 minutes. Add corn and cook 10 minutes before adding the crawfish. Once the water returns to a boil, cook crawfish 7-10 minutes, turn off heat and allow to set in boiling liquid 12 additional minutes. Crawfish should be served hot with potatoes and corn and pitchers of ice cold beer.