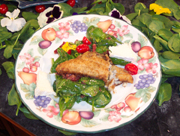 Comment:
This Cajun twist on the main-stream spinach salad highlights local ingredients. Sautéed catfish fillets and andouille sausage make this dish as unique as south Louisiana.
Ingredients:
6 (5-ounce) catfish fillets
1 cup apple cider vinegar
8 ounces julienne andouille sausage
2½ tbsps Creole mustard

1/3 cup honey

1 cup olive oil

salt and black pepper to taste

2 large eggs, beaten

1 cup milk or water

2 cups white rice flour

1 tbsp granulated garlic

2 (6-ounce) packages baby spinach leaves

1 (4-ounce) wheel Bittersweet Plantation Dairy Fleur-de-Lis Fromage Triple Cream, cubed
Method:
In a 10-inch sauté pan, cook andouille over medium-high heat 10 minutes. Add vinegar, Creole mustard and honey. Reduce the liquid by half. Whisk in 2/3 cup olive oil. Season to taste with salt and pepper and keep warm. In a small shallow bowl, whisk eggs and milk. In a separate shallow bowl, combine rice flour, garlic, salt and pepper. Season catfish with salt and pepper. Dip fillets into egg wash and then dredge in rice flour. Heat remaining olive oil in a heavy-bottomed skillet over medium-high heat. Add fillets and cook approximately 3 minutes per side until edges are brown, but fish is opaque in the center. Place spinach in a large salad bowl. Toss with enough dressing to coat spinach leaves. Divide salad among 6 plates. Place a catfish fillet over each plate of salad. Sprinkle with cheese cubes, drizzle with additional dressing and serve.