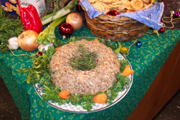 Comment: Daube Glacé is the most classical of the Creole hors d'oeuvres. Usually made with leftover daube (braised beef), this classical dish has been altered in this recipe to use two of the most popular holiday main dishes, turkey and ham.

Ingredients:
1½ pound cooked turkey, 1-inch diced

1½ pound cooked ham, ¼-inch diced

2 quarts turkey or chicken stock

½ cup diced onions

½ cup diced celery

½ cup diced red bell peppers

¼ cup minced garlic

½ cup diced carrots

½ cup minced parsley

salt and cayenne pepper to taste

3 envelopes gelatin, dissolved in warm water



Method:
NOTE: To make turkey stock, simmer bones of roasted turkey in 1 gallon of water until reduced to 2½ quarts.
In a cast iron Dutch oven, bring turkey stock to a light boil. Add cooked meat, onions, celery, bell peppers and garlic. Reduce heat to simmer and allow to cook until turkey begins to string apart. Strain all ingredients from liquid through a fine sieve and set aside. Return liquid to heat and reduce to 1½ quarts. Add carrots and parsley then season to taste using salt and cayenne pepper. Using a wire whisk, blend dissolved gelatin into sauce. Remove from heat and allow to cool slightly. Place the strained meat and vegetables into a bundt pan. Ladle stock over the meat, cover with clear wrap and allow to gel in the refrigerator. This glacé is best when allowed to sit for 24 hours so that flavors can develop. Serve with garlic croutons or crackers.