Stuffed Tomato with French-Roasted Chicken Salad
Prep Time: 45 Minutes
Yields: 12 Servings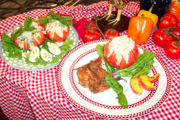 Comment: Use a roasted chicken from the local supermarket for this recipe, or bake your own flavored with a multitude of fresh herbs. For an elegant presentation, stuff the chicken salad into hollowed out tomatoes.
Ingredients:
6 cups cold roasted chicken
6 boiled eggs, separated
1 cup mayonnaise
1 tbsp Creole mustard
¼ cup minced onions
¼ cup minced celery
1 tsp chopped garlic
2 tbsps minced red bell peppers
2 tbsps minced green bell peppers
2 tbsps minced yellow bell peppers
2 tbsps minced orange bell peppers
2 tbsps chopped parsley
½ cup sliced green onions
½ cup sweet pickle relish
salt and black pepper to taste
Louisiana hot sauce to taste

Method:
Bone and cube chicken. If desired, remove skin and set chicken aside until later. In a large mixing bowl, use a fork to mash egg yolks well. Add mayonnaise and Creole mustard, blending well into yolks. Dice egg whites and add to mixture. Combine all remaining ingredients except chicken. Mix until all seasonings are thoroughly combined with mayonnaise sauce. Add cold roasted chicken cubes and gently toss. Season with salt, pepper and hot sauce. This salad can be served in a hollowed out tomato or on bread as a chicken salad sandwich.