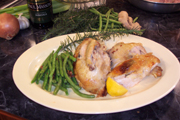 Comment: Not only does this dish have a low carbohydrate count,only 2 grams per serving, but it is also very easy to put together. This quick, delicious meal allows you to give your family something healthy for dinner and gives you time to spend time with them, too.
Ingredients:
2 whole fryer chickens
7 (2-inch) sprigs rosemary
4 tbsps butter
salt, pepper and granulated garlic to taste
paprika for color
1½ tsps olive oil
2 lemons
½ cup chicken broth
½ cup dry Marsala wine
Method:
Preheat oven to 450ºF. Remove giblets from chicken, rinse and pat dry. Insert a rosemary sprig and 1 tablespoon butter between the meat and skin of each breast half. Season chickens with salt, pepper, granulated garlic and a small amount of paprika for color. Rub oil on skin. Put a rosemary sprig and half of a lemon in each bird's cavity. Roast chickens for 1 hour. Chicken is done when skin is crisp, juices run clear and an instant-read thermometer reads 170ºF when inserted in the thickest part of the thigh. Transfer chickens to a cutting board to rest. Remove leaves from remaining rosemary sprig and coarsely chop. Grate rind from remaining lemon. Pour liquid from roasting pan into a measuring cup or gravy separator. Degrease liquid and reserve. Place roasting pan on two burners over high heat. Add broth to pan and scrape up browned bits from bottom. Cook about 1 minute, until broth is reduced by half. Add wine, chopped rosemary and grated lemon rind. Cook 1-2 minutes to allow flavors to blend. Add reserved pan juices and any accumulated juices form resting chickens to rosemary-lemon mixture in roasting pan. Transfer to a gravy boat. Carve chickens and serve with sauce.