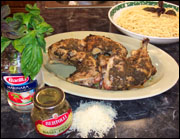 COMMENT:
Who wants to come home from a hard day of work and have to decide what to cook and then spend 2 hours cooking? No one does. I have the perfect solution to this problem. I have used prepared ingredients to make a great dish that even the kids will love.
INGREDIENTS:
1 whole fryer chicken

1 (8-ounce) bottle pesto

1 jar of your favorite spaghetti sauce

1 pound linguini

salt and pepper to taste

METHOD:
Preheat oven to 350°F. Shake bottle of pesto well or mix with a spoon. Season chicken with salt and pepper. Rub pesto over the entire chicken and under the skin. Put any remaining pesto into the cavity of the chicken. Bake covered for 30–40 minutes or until wing pulls freely from the breast. Raise the oven temperature to 450°F and cook for 15 minutes more or until the skin is golden brown. Cut chicken into serving pieces and serve over linguini with your favorite spaghetti sauce.
NOTE: This recipe can be prepared with chicken pieces; however, a whole chicken will remain moister than pieces during the cooking process.