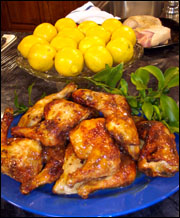 COMMENT:
During the summertime, the best way to cool off after a hot day is with a tall, refreshing glass of ice-cold lemonade. We have combined the sweet and tart tastes of the official drink of summer to create a wonderful, savory glaze for roasted or grilled chicken.
INGREDIENTS:
2 whole fryer chickens
¾ cup lemon juice
1¼ cups light brown sugar
3 tbsps butter
½ cup finely diced onions
1 tbsp minced garlic
½ tsp minced fresh thyme
¾ cup water
6 tbsps yellow mustard
4 tsps cornstarch
salt, pepper and granulated garlic to taste
METHOD:
Preheat oven to 375°F. Cut each chicken in half through the breast bone and then into quarters. Season chicken generously with salt, pepper and granulated garlic to taste and place on a baking sheet or in a roasting pan. Bake for about 45 minutes or until wing pulls freely from the breast and skin is crispy and golden brown. In a small bowl mix cornstarch with ¼ cup cold water, blending until dissolved. Set aside. While the chicken is roasting, melt butter in a saucepot over medium- high heat. Add onions and garlic and sauté 3–5 minutes. In the saucepot, add lemon juice, brown sugar, thyme, remaining water and mustard, blending well. Bring to a low simmer and cook for about 10–15 minutes. Add the cornstarch mixture stirring constantly until sauce is thickened. Remove from heat and allow sauce to cool slightly. When chicken is done, brush the lemon glaze over the chicken and bake for 5 additional minutes. Serve the chicken with your favorite side dish.