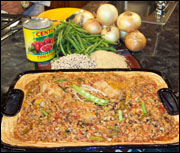 COMMENT: This dish is common throughout West Africa and can be made with chicken, beef, goat or pork. It is almost a cross between a Red Jambalaya and a Chicken Creole, which are both found here in Cajun country and may be the origin of dishes of this type.

INGREDIENTS:
1 (2-3 pound) fryer chicken, cut into 8 pieces

2 tbsps vegetable oil

2 onions, sliced

2 cups chicken stock

1 (28 ounce) can Cento Italian plum tomatoes, diced

1 tbsp Cento tomato paste

½ tsp cayenne or to taste

1 tsp salt

½ tsp pepper

¼ tsp dried thyme

1 cup uncooked rice

8 ounces green beans, fresh, cut in 1 inch pieces

2 cups frozen black eyed peas

salt and pepper to taste

METHOD:
In a large cast iron Dutch oven, heat vegetable oil over medium high heat. Season chicken with salt, black pepper and cayenne pepper to taste. Cook chicken until well browned, about 10-15 minutes. Add onions and sauté for 10-15 minutes, or until slightly browned. Add stock, tomatoes, tomato paste and measured seasonings. Bring to a rolling boil, reduce to simmer, cover and cook for 30 minutes or until the chicken is nearly done. Stir as needed. Add rice, green beans and black eyed peas. Continue cooking for 20 minutes or until rice is completely cooked and chicken is done. Can be served alone or over additional steamed rice.