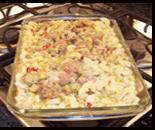 COMMENT:
Here is a great way to use up that leftover fried chicken from Sunday night's game. It combines fried chicken with that old favorite, macaroni and cheese. What could be more flavorful?
INGREDIENTS:
1 (8-ounce) package elbow macaroni, cooked
¼ cup butter
1 cup diced onion
1 cup diced celery
½ cup diced red bell peppers
1 cup smoked sausage, thinly sliced
1 tbsp flour
½ tsp paprika
½ tsp mustard
1½ cups milk
1 (11.5-ounce) package Bittersweet Plantation Dairy Creole Cream Cheese
1½ cups shredded Cheddar cheese
½ cup diced spicy fried chicken, de-boned
¾ cup bread crumbs
½ cup grated Parmesan cheese
salt and black pepper to taste

METHOD:
Preheat oven to 350°F. In a saucepan, melt butter over medium-high heat. Add sausage and brown slightly. Do not burn the butter. Add onions, celery and red bell peppers and sauté 3–5 minutes until vegetables are wilted. Sprinkle in flour and blend to create white roux, do not brown flour. Add paprika, mustard and milk. Bring to a low boil stirring occasionally. Add Creole cream cheese and cheddar cheese blending well into the mixture. Stir until cheese is melted, about 5 minutes. Fold in fried chicken pieces then season to taste using salt and pepper. Remove from heat and set aside. In a bowl, combine bread crumbs and Parmesan cheese. Set aside. Spray a 9" x 13" casserole dish with a non-stick spray. Place cooked macaroni in the dish and blend in the cheese mixture. Top with breadcrumbs and bake uncovered for 20 minutes or until lightly browned.