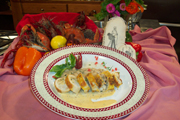 Comment :


Bayou Lafourche flows from the Mississippi River in Donaldsonville, La., to the Gulf of Mexico. Over the past 200 years, many of the Creole cultures have settled this area. These families have developed many interesting cooking methods not only for seafood, but also for poultry and beef. This recipe combines crawfish, a staple of the bayou, with chicken and traditional Cajun andouille.

Ingredients for Chicken:
6 boneless chicken breasts
¼ pound chopped crawfish tails
¼ pound jumbo lump crabmeat
2 tbsps diced tasso
¼ cup minced onions
¼ cup minced celery
¼ cup minced red bell peppers
1 tsp minced garlic
¼ cup sliced green onions
¼ cup chopped parsley
½ tsp Herbsaint
½ cup mayonnaise
½ cup Italian bread crumbs
salt and cracked black pepper to taste
1 cup Petit Marché Stone Ground Cornmeal
½ cup Whirl butter oil
1 tbsp chopped fresh herb mix (basil, tarragon, rosemary, etc.)

Method:
Preheat oven to 375°F. Pound chicken breasts lightly to flatten. Season with salt and pepper. In a 1-quart mixing bowl, combine all remaining ingredients except cornmeal and oil. Blend well and adjust seasonings if necessary. Place an equal amount of stuffing in center of each breast, roll into a turban shape and secure with toothpicks. Dust lightly in cornmeal and set aside. In a 10-inch sauté pan, heat oil over medium-high heat. Add chicken and sauté until brown on all sides. Remove chicken from pan, place in a baking dish and bake 20–30 minutes. Keep warm.
Ingredients for Andouille Tarragon Cream:
¼ cup andouille, diced
1 tbsp chopped tarragon
¼ cup Bittersweet Plantation Dairy Butter
1 tbsp sliced shallots
1 tbsp minced garlic
1 tsp flour
1 ounce white wine
1 cup heavy whipping cream
½ cup crawfish stock
salt and black pepper to taste
Method:
In a skillet, melt butter over medium-high heat. Add shallots, garlic and andouille. Sauté 3–5 minutes or until vegetables are wilted. Blend in flour, add tarragon and deglaze with white wine. Stir in cream and stock then reduce to half volume. Season with salt and pepper. Serve under Chicken Bayou Lafourche with wilted red kale.