Crawfish Andouille Fettuccini
Prep Time: 45 Minutes
Yields: 6 Servings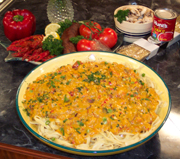 Comment:
Probably the two ingredients most associated with Louisiana cooking, crawfish and andouille, come together in this wonderful pasta dish. The light, smoky flavor of andouille adds the perfect touch to the fettuccini
Ingredients:
2 pounds crawfish tails, cooked
½ cup diced andouille sausage
1 pound fettuccini noodles, cooked
¼ pound butter
2 tbsps chopped garlic
½ cup diced onions
¼ cup diced celery
¼ cup diced red bell peppers
¼ cup diced green bell peppers
1 cup sliced mushrooms
½ cup diced tomatoes
¾ cup flour
1 quart crawfish stock (see method below)
or 1 quart water seasoned with chicken bouillon
¼ cup dry white wine
1 tbsp lemon juice
¼ cup tomato sauce
1½ cups heavy whipping cream
1 tsp chopped basil
1 tsp chopped tarragon
2 tbsps chopped parsley
¼ cup sliced green onions
salt and black pepper to taste
Method:
In a heavy-bottomed 3½-quart saucepan, melt butter over medium-high heat. Add garlic, onions, celery, bell peppers, mushrooms, tomatoes and andouille. Sauté for 5 minutes or until vegetables are wilted. Sprinkle in flour and blend well. Whisk in crawfish stock, white wine, lemon juice and tomato sauce. Whisk well until all is blended. Bring to a simmer and hold for 10 minutes, stirring frequently. Add crawfish tails and cream. Return to simmer and cook 10 minutes. Add basil, tarragon, parsley and green onions. Season to taste with salt and pepper. Remove from heat and toss with pasta.