Low Fat Chicken Pasta "Creamavera"
Prep Time: 1 Hour
Yields: 4 Servings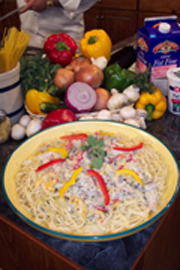 Comment:
Pasta primavera is usually a red pasta sauce filled with tender vegetables. Here, we have put a little twist on the traditional dish by changing the sauce to a rich and cheesy cream sauce. We have also cut the fat found in regular cream sauces to almost nothing by using fat-free half-and-half and sour cream and reduced fat Parmesan cheese.
Ingredients:
1 pound linguine, cooked
2 cups grilled chicken breast, sliced
1 tbsp olive oil
1 (6-ounce) can marinated artichoke hearts
½ cup diced onion
1 tbsp minced garlic
¾ cup julienned red bell pepper
¾ cup julienned yellow bell pepper
1 cup sliced mushroom
1 tbsp chopped oregano
2 tsps chopped thyme
2 cups fat-free half and half
¼ cup fat-free sour cream
½ cup reduced fat, grated Parmesan cheese
salt and black pepper to taste
Method:
In a large skillet, heat olive oil over medium-high heat. When oil is hot, add liquid from artichoke hearts. Chop artichokes into bite-sized pieces and reserve for later. Bring liquid to a simmer and add onions, garlic and bell peppers. Sauté for 3-5 minutes or until softened. Add artichoke hearts, mushrooms, oregano and thyme and sauté for 2-3 additional minutes. Add half and half, bring to a simmer then reduce slightly. Remove from heat and add sour cream and cheese. Stir until cheese is melted. Season to taste with salt and pepper. Toss mixture with hot cooked pasta and garnish with more Parmesan cheese and a sprig of oregano.