Penne with Pumpkin Cream Sauce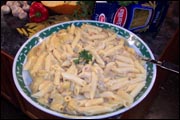 Prep Time: 1 Hour
Yields: 4 Servings
Comment: Pumpkins are plentiful during the fall months. This recipe uses pumpkin purée to create an interesting pasta dish. You can purchase canned pumpkin or make your own fresh purée using the method below.
Ingredients:

1 pound penne pasta, cooked
½ cup pumpkin purée*
4 tbsps butter
1 cup diced onions
¼ cup diced red bell peppers
1 tbsp minced garlic
1 cup sliced mushrooms
3 cups heavy cream
½ cup shredded Parmesan cheese
pinch of nutmeg
salt and black pepper to taste
parsley for garnish
Method:
In a large skillet, melt butter over medium-high heat. Sauté onions, bell peppers and garlic 3–5 minutes or until wilted. Add mushrooms and sauté 2 more minutes or until softened. Add cream and bring to a slow simmer. Stir in pumpkin purée and Parmesan cheese. Simmer until reduced and slightly thickened. Season with nutmeg, salt and pepper. Serve over hot, cooked penne pasta and garnish with chopped parsley.
*Pumpkin Purée
To make fresh pumpkin purée, cut a large pumpkin in half and remove the stem and seeds. Cut into 2-inch squares. In a large stockpot, place pumpkin squares and cover with water by 2 inches. Bring to a rolling boil and cook 20–30 minutes until pumpkin is completely tender. Drain and cool under cold running water. When completely cooled, scoop pumpkin off of the skin and discard skin. Place cooked pumpkin into a food processor or blender and process until smooth. Any remaining purée can be frozen for up to a year.