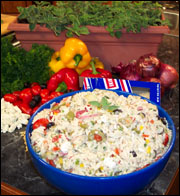 COMMENT:
The literal Italian translation for "orzo" is "barley," but orzo pasta is rice-shaped pasta that is traditionally seen in soups. In this cold pasta salad that is as unique in taste as it is in appearance, we have combined orzo with marinated artichoke hearts, feta cheese and mixed olives to create a great-tasting salad straight from the Greek isles.
INGREDIENTS:
1½ cups uncooked orzo pasta

2 (6 ounce) cans marinated artichoke hearts

1 pint cherry or grape tomatoes, halved

1 cucumber

¼ cup yellow bell pepper, small diced

1 red onion, halved and sliced very thinly

1 cup crumbled feta cheese

1 (2 ounce) can sliced black olives, drained

1 cup Italian olive salad, not drained

¼ cup chopped fresh parsley

1 tsp fresh oregano, chopped

salt and freshly ground black pepper to taste

METHOD:
Bring a large pot of lightly slated water to a rolling boil. Add pasta and cook for 8-10 minutes or until al dente. Peel cucumber, slice in half lengthwise, seed and slice each half. Drain orzo, run under cold water until completely cooled and place in a large bowl. Add artichoke hearts with liquid, tomatoes, cucumber, bell pepper, onion, feta, olives, olive salad, parsley, lemon juice, oregano and salt and pepper to taste. Chill for at least 1 hour. Serve in a large chilled bowl.