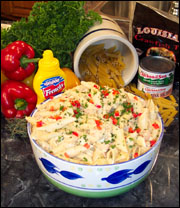 COMMENT: Memorial Day weekend is fast approaching. This is a great picnic recipe for your family's weekend outing. Keep on ice for an easy, chilled salad that everyone will love.
INGREDIENTS:
1 can (6 ounces) pink salmon, drained

1 can (6 ounces) tuna, drained

1 can (3.75 ounces) sardines in hot sauce, chopped (optional)

1 pound crawfish tails, drained

1 pound penne pasta, cooked

4 eggs, boiled

1¼ cup mayonnaise

2 tbsps yellow mustard

2 tbsps celery, minced

2 tbsps sweet pickle relish

2 tbsps red bell pepper, minced

2 tbsps yellow bell pepper, minced

¼ cup green onions, sliced

2 tbsps parsley

1 tbsp fresh thyme, chopped

¼ cup extra virgin olive oil

salt and pepper to taste

2 tbsps Zatarain's Creole Seasoning or to taste

METHOD:
In a large mixing bowl, chop eggs with a pastry cutter or potato masher until finely chopped. Add mayonnaise, mustard, celery, pickle relish, bell peppers, green onions, parsley and thyme. Mix well until all ingredients are blended. Fold in pasta, salmon, tuna, sardines, and crawfish very gently so as not to break up the fish. Add olive oil and toss to blend. Season with salt, pepper and Creole seasoning to taste and serve in a large chilled bowl. If serving this outdoors or on a buffet table, place in a bowl set in a larger bowl of ice to keep cold. Always keep covered.